Brass Depth Gauge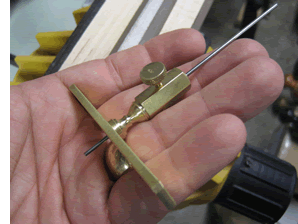 About: A machinist's micrometer is very useful for many gun building tasks, but not all. Because there are several odd areas to measure, there are many times when the micrometer is just too bulky to fit into a small or awkwardly shaped space. This tiny gage is specifically designed for gun building tasks.
Specifications: Solid machined brass, 18th century styling. Removable shoe plate is ½ inch wide and 3 inches long. The measuring rod is made of 0.062 diameter tool steel and is 4 inches long.
Price: $26
Details: I use a micrometer for many of the measurements I take while working on a firearm but it doesn't fit the bill in every situation. For example, using the old trick of drilling a small hole at the bottom of a barrel channel to find the bottom of the ram rod hole. The micrometer depth rod will not fit in the hole, or measure the depth of a barrel channel, or…
To solve the problem, I designed this slender depth gage with a removable brass shoe plate. With the shoe plate attached, it will sit nicely across a barrel channel or lock mortise to measure depths. It can also be hung over one side of the stock and used to locate pipe or barrel pin locations. If you remove the shoe, it will fit down in tight places to measure the height of a step, ram rod hole depth, lock mortise depth, etc.
I made it just for fun, but it has turned out to be one of the handiest tools on my bench. It is also excellent for general woodworking and we have sent a few to cabinet makers and wooden toy builders.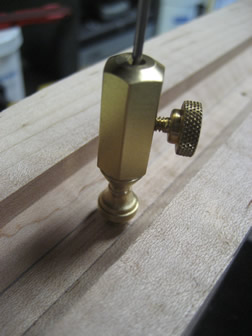 [Click on any picture to enlarge]