Brass Gunsmith Hammers
About: Gun work requires many specialized tools. While there is nothing very complicated about a hammer, special size heads, mostly made of brass for a non-marring strike, are essential in the trade. These hammers are distinctively designed and made with the same craftsmanship as the guns they will build. Excellent tools in their own right, they also make excellent presentation gifts for craftsmen of all types. These are hand made, one at a time, for the discriminating craftsman.
Specifications: Solid brass heads with turned walnut handles and stainless steel shanks. The standard brass hammers come in three different head weights;
Brass hammer, 2 1/2 ounces, head is 5/8" diameter x 2 3/16" long.
Brass hammer, 4 ounces, head is 3/4" diameter x 2 1/4" long.
Brass hammer, 6 ounces, head is 7/8" diameter x 2 3/8" long.
Also available:
Steel hammer, 2 ounce
Brass hammer, 3 ounce, with one or two soft (nylon) faces.
Brass hammer, 6 inches overall length
Brass hammer, tiny, 3 1/2 inches overall length
Details: When I made a set of these hammers for myself many years ago, my daughters were tiny and would often pick them up to tap on things and "work" with me. I loved having them nearby, but their hands were still very small and the hammers too big for them, as well as dangerous to passers by. So I made these very small ones specifically for them. Although I made the little hammers with no real thought of using them that size, the six inch long hammer has turned out to be perfect for very small work, mostly in the jewelry trade. The very smallest hammer was made as a gift for my mother who has always loved miniature tools.
Price:
| | | |
| --- | --- | --- |
| | • Brass hammer, 2 ½ oz head | $56 |
| | • Brass hammer, 4 oz head | $56 |
| | • Brass hammer, 6 oz head | $56 |
| | • Steel hammer, 2 oz head | $56 |
| | • Brass hammer, 3 oz head, 1 nylon face | $56 |
| | • Brass hammer, 3 oz head, 2 nylon faces | $56 |
| | • Brass hammer, 6 inches long | $28 |
| | • Brass hammer, 3 ½ inches long | $28 |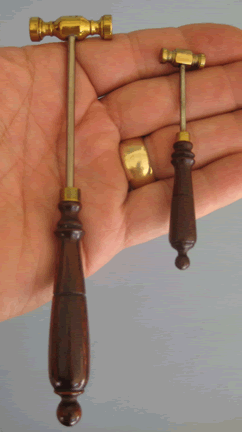 [Click on any picture to enlarge]