Pan Whisk & Vent Pick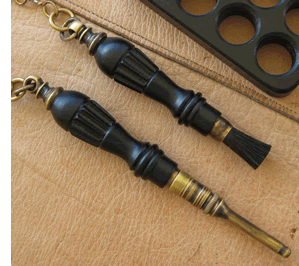 About: I have made a few rustic style pan whisks out of braided or seized horse hair, and they work fine. However, they always look a little ratty and, with not much use, the bristles are all ahoo and the whisk needs to be replaced. This slightly more elaborate whisk has an oil finished, turned ebony grip, a brass tail piece with a ring, and a replaceable horse hair brush. The matching vent pick has a hardened and polished steel blade to keep from abrading the firearm vent. It also doubles nicely as a sewing awl and is provided with a brass scabbard.
Specifications: Turned solid brass, steel, and ebony construction. The handles are 2 inches long and the vent pick has a 1 1/2 inch long blade.
Price:
| | | |
| --- | --- | --- |
| | Ebony handle whisk | $85 |
| | Ebony handle vent pick / awl | $85 |
| | Ebony handle whisk & pick set | $160 |
| | Replacement whisk brush | $8 |
Details: Since these are hand made one at a time, the handles can be made out of other materials as well, such antler or other exotic woods. Contact us for a price on special materials.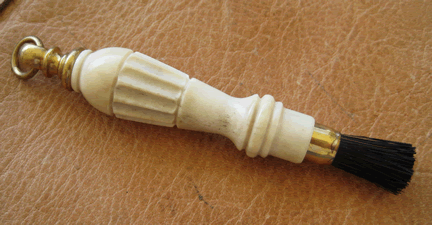 [Click on any picture to enlarge]